About Us – Bee Happy Plants & Seeds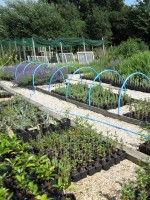 Bee Happy Plants based at Lakehayes Organic Nursery, is a small family run business, established and put into Soil Association organic conversion in 2002. Now run by Sarah and daughter Joy, with help from other family members, various local part-time and seasonal workers; all have contributed to what has become an efficient production line of seed-raised, organic, wild species plugs, plants and more seeds.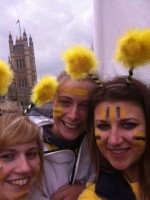 Sarah (with experience on organic farms since the 1980's and RHS Level 3 at Bicton Agricultural College), would say the inspiration behind Bee Happy Plants began way back on the isolated smallholding of her childhood, in countryside untouched by modern agriculture. Watching parents, Fitz and Brygid and salt-of-the-earth land-worker Fred Shire care for 25 acres: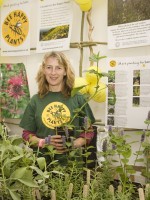 planting trees, wild and formal gardens, fruit and vegetable garden, and maintaining permanent pasture and orchard, with nothing much more than a few grazing animals, a fork, a scythe and a sense of humour. It was this idyllic, magical place brimming with wildlife in all its weird and wonderful forms, from the gentle and regular hoot of owls, to the humming and buzzing of insects.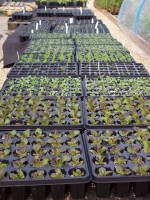 The shock came later when it dawned that the place of her childhood was unique. Few other places like this jewel of unspoilt countryside still exist. Instead the 'green deserts' of monoculture expand; where weeds, insects and wildflowers are no longer welcome, birds no longer gather, and bees go hungry. Understanding that it is down
to ordinary people like us, in our own gardens, to nurture something wild or heritage – we can all help to save bees' favourite plants. Bee Happy Plants was conceived to help us do this.
Testimonials
Here are some emails we have been sent about our products and the work we do:
"Dear Sarah,
Received today in the post, spent a lovely hour planting.
Many thanks"
Brigitte Maisner (24th April 2014)
"Thank you very much for the order. Everything is perfect and we are very pleased with the splendid bag. We will be delighted to advertise you whenever we go shopping, as well as recommending you to our nature aware friends and acquaintances. We shall certainly visit you again.
Thank you again".
Freda & Bob Bunce (currently Prof of Environmental Sciences in the Estonian Uni of Life Sciences in Tartu). (23rd April 2014)
Hi Sarah,
thank you so much for sending the seeds. they arrived the next day. I love the way you packaged them: all neatly laid out on an A4 sheet. The service you provide is outstanding. I'll let you know how I get on.
Wishing you all the best,
Kurt. (27th August 2013)
Arrived this morning Thank you! I couldn't BEE Happier!
Regards Dennis Flintham (23rd July 2013)
Message:
I think you're great! I love what you are doing for the bees
and your seeds,plants and delivery are great value. Well done! Keep it up! 🙂
Fiona (13th May 2013)
We only discovered you recently. Andrew has bought heathers and herbs from you and been very pleased with them.
There's a live link in our newsletter and numerous people have followed it to your site.
I thought we'd let you know. Please take a look at our newsletter.
Veronica
Veronica Burke at Bread Matters
Macbiehill Farmhouse (10th May 2013)
Hi there,
Just to let you know, I've received my plants and I'm very happy with them. They're happy in a propagator while I wait for my organic soil to turn up 🙂 Thank you for your advice on the soil by the way. I shared your website on facebook as I noticed you don't have a page yet. I'd really recommend creating one (especially with all the dialogue over bees at the moment). I work for a small company and we have been kept successful through the recession largely because of Facebook. Where other business has died off, we've maintained relations with very loyal mail order customers. Anyway, just thought I'd share that with you in case you didn't think it was worth doing as I'm very happy to find your company. I hope you do very well for yourselves.
Kind regards
Helen Linnane (30th April 2013)
I just wanted to let you know how pleased I was with the plants that I ordered. They were very well packaged and arrived in excellent condition, and the complimentary bag was a lovely surprise.
The plants are part of a perennial wild flower meadow that I am creating at our allotments to provide food for our bees and I would be happy to promote your company to other plot holders and my friends. If you could supply any brochures/leaflets/plant lists then I could display these in our community chalet and also add your company to our website. The Kinver Allotment Association was established four years ago with Lottery funding which was used to rent a field from a local organic farmer who is keen to promote organic growing and encourage bee keeping. We currently have two hives and despite the bad weather both are thriving and any additional food sources should ensure that this continues.Our youngest bee keeper, aged 7, has written to and received replies from the Prime Minister's office and Defra regarding the use of unfriendly pesticides as part of a school project and he would also be keen to promote beehappyplants at his school. Perhaps other schools would also be interested in this.
Regards Annie
KAA Commitee member. (23rd March 2013)
Good evening,
Thanks very much for the plants which arrived the other day, beautifully wrapped and parcelled.
The bag was a really nice surprise! Thank very much.
Best wishes,
Robert (2ndMarch 2013)
Hi there Beehappy,
I have just received my plants and wanted to thank you they are fantastic. I have never received plants in such excellent condition via post. I have already started telling friends of your excellent site, service and most of all plants.
Regards
Esther Moore (22nd June 2012)