Bee Happy Plants and Seeds
Search tool
Favourites
… We have updated our website. Enjoy the easier shopping!
We ship plants and seeds throughout the British Isles, and seed to Europe (to order plants for shipping to Europe please email):
info@beehappyplants.co.uk
🙂 *We use organic growing methods to produce the healthiest plants free from toxic residues, offering the purest pollen and nectar for bees and other pollinators. Wild-species plants have the chance to evolve and survive climate change. All of our wild plants and seed are produced on certified organic land 🙂 We are a not-for-profit charitable company no. 9988290, our profits going towards saving wild species plants and trees – bees' favourite ones of course!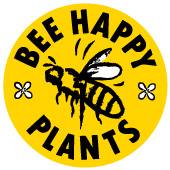 We grow wild-species* plants: herbs, perennials, shrubs, and trees as evolved with pollinators over millions of years, and raised from seed, as nature intended.
The United Nations Environment Programme (UNEP) warned in their recent Global Bee Colony Disorders and other Threats to Insect Pollinators report that 'An estimated 20,000 flowering plant species, upon which many bee species depend for food, could be lost over the coming decades unless conservation efforts are stepped up'. All flowering plants have evolved over millions of years with their pollinators in mutual-dependency on each other. The plants produce pollen and nectar in return for pollination, which produces fruit and seed. Bees are the primary pollinators, but other pollinators include butterflies, moths, midges, dragonflies and some wasps. In recent years we have seen a loss of wild plant habitats and species. And while the market has been flooded with artificial hybrid-clones, most of which provide no pollen, or nectar, nor seed, all pollinators are going hungry. Decline of original wild plant species will cause further decline and extinction of pollinators. Wild (or horticultural term 'species') plants, on the other hand, are unaltered by man. They have evolved to support their pollinators with perfect forage, and have the ability, through diverse gene-pools, of evolutionary adaptation to changing environmental conditions. Conserving these wild plants in our gardens could save pollinators, and organic growing methods ensure there are no toxic residues in pollinators' food sources.
Copyright © 2014 Sarah Holdsworth for Bee Happy Plants. No part of this website may be reproduced without prior permission of Bee Happy Plants
Acknowledgements
Thanks to WDJ Kirk & FN Howes for their work 'Plants For Bees' and IBRA whose information about bee pollinators has enriched our descriptions. We sell this book from our 'Bee Happy gifts' tab 🙂 Thanks to friends, family and workers including the honeybees and other bees and pollinators at Bee Happy Plants' nursery; for bee-ing 🙂 Thanks to 'Caroline's Websites' for a beautifully designed website and unwavering patience to make it all work for us and our customers 🙂 Thanks to Wikimedia for some of the images which are not our own 🙂